Experience The Resurrected Jesus This Easter
Easter is such an important season for us to contemplate as believers.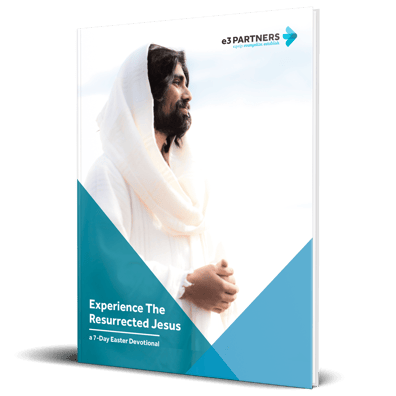 Consider this: that first Easter week was full of awe-inspiring highs and soul-crushing lows. Jesus' followers went from seeing countless people joyously wave palm branches during His triumphal entry, to watching an angry crowd march Him—bruised and bleeding—toward Golgotha where He would be crucified.
Peter, James, Thomas, and Mary all had hopes and expectations for what that week would look like, and none of them included a cross or a tomb.
Is there a cross that you're carrying right now? Is there a relationship or part of your life that is dead, buried, and in need of resurrection? If so, we invite you on a special journey of reflection, prayer, and spiritual transformation in Experience the Resurrected Jesus.
Through this exclusive 7-day Easter devotional, you and your family will find the hope that Jesus alone can bring to broken situations.
Each day's reading features scripture, sound biblical analysis, and a prayer which will align your heart with God's word during this meaningful Easter season.
Let us know where to send your free copy using the secure form below!
With more than a dozen prayers that you can use as a guide for talking with God, this practical ebook touches on a wide range of overwhelming emotions including anxiousness, impatience, disappointment, hopelessness, frustration, burnout, emptiness, weariness, and more.
This ebook is our free gift to you as part of our ongoing mission to bring people closer to God. Just let us know where to send it!